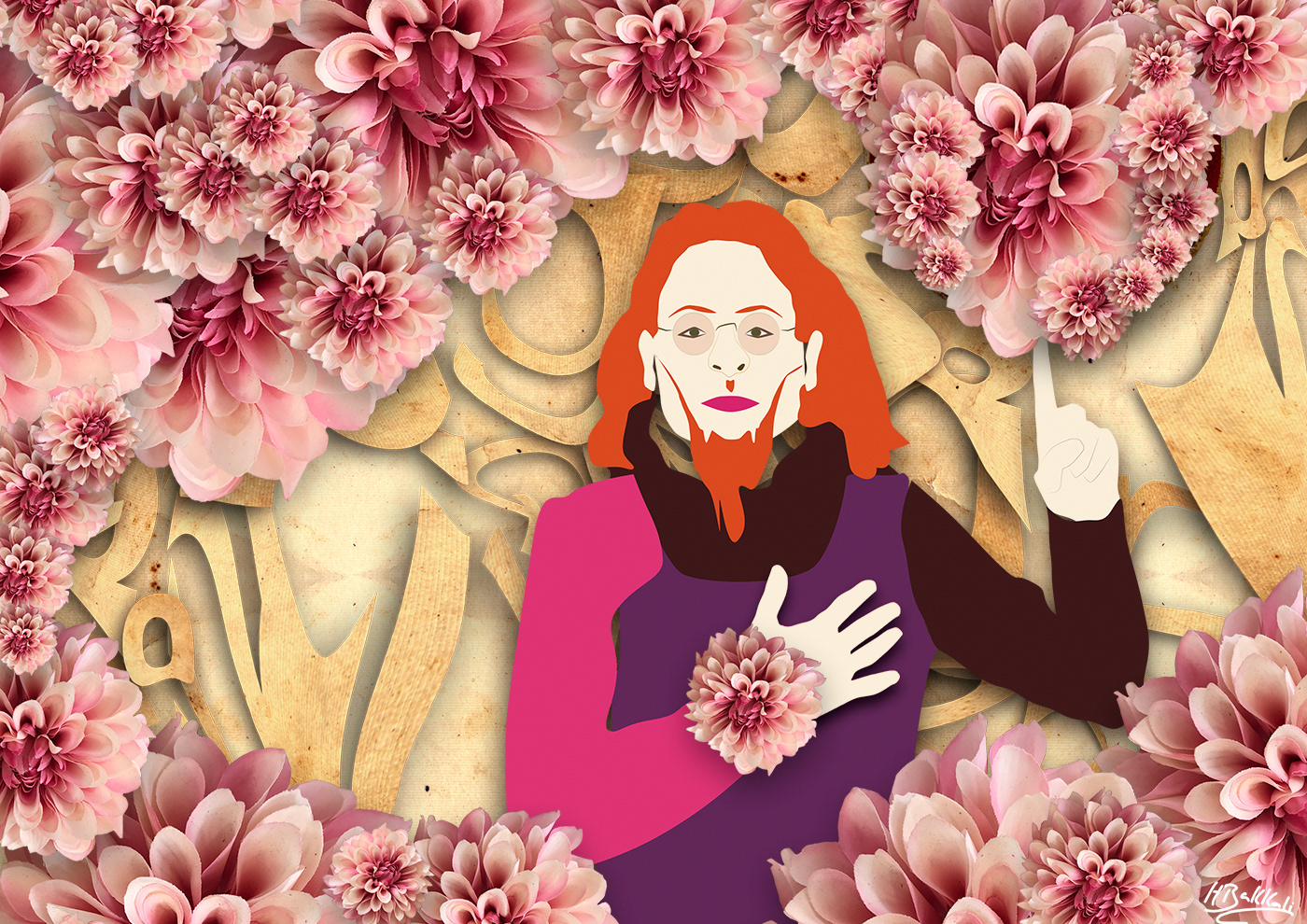 This is a tribute to Don Quixote and to its universal values: reflection, conversation, understanding, humor and wit, color, words for love and hope. It is the time of words and stories. It is the time of optimism and hope. It is the time of fantasy and dreams. It's time for legends with a happy endings. It is time of reflection. It is the time of genius and madness. It is time of the Don Quixote of the 21st Century.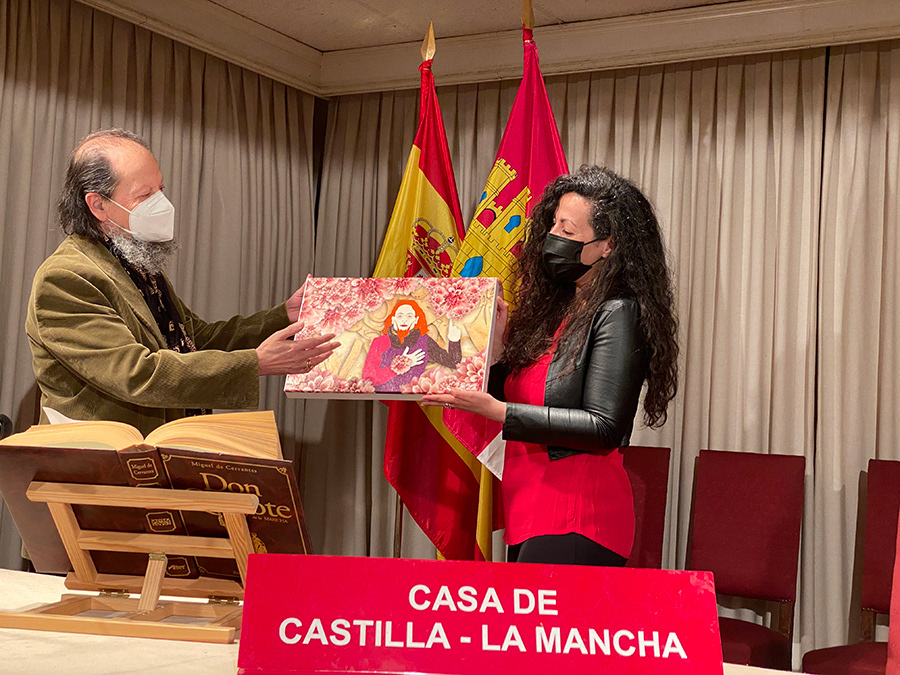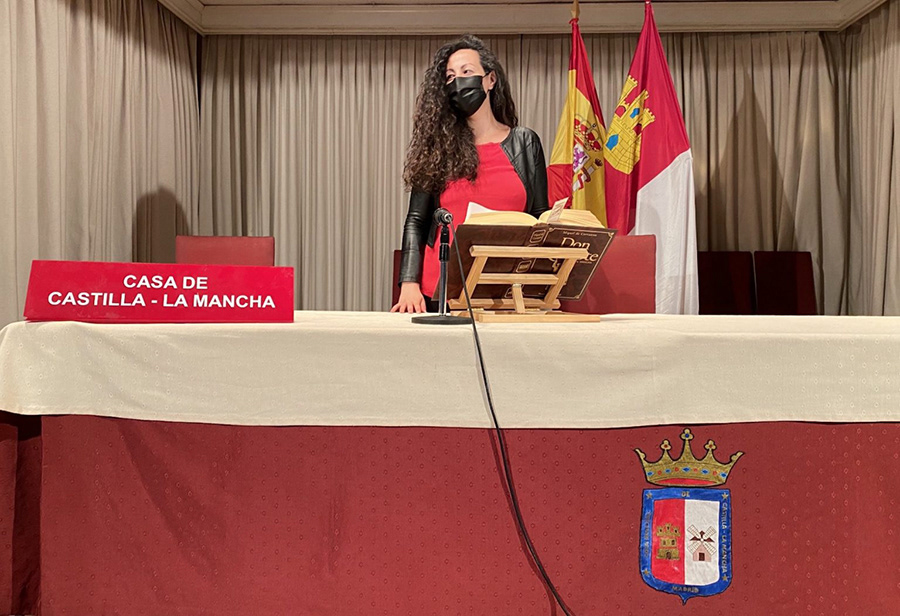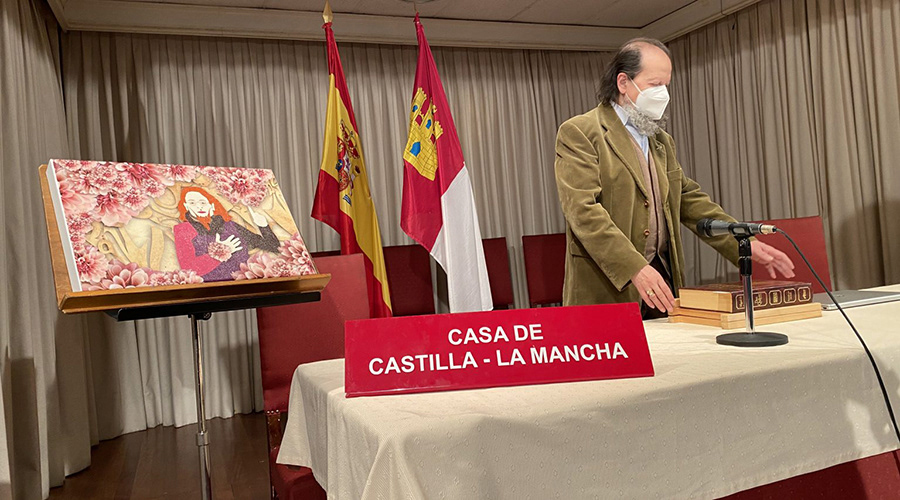 The House of Castilla-La Mancha in Madrid has received the work of Houda Bakkali
On World Book Day, the President of the Regional House of Castilla-La Mancha in Madrid, José Fernando Sánchez Ruiz has received the graphic artist Houda Bakkali, who will exhibit her work «Time of Quixotes» on a permanent basis in the gallery of this cultural centre.
Regarding her work, the President of the Regional House of Castilla-La Mancha in Madrid believes that "Houda is one of the most inspired and emerging artists of our time, her expression is a discovery, not only of the most avant-garde techniques in the creation of communicative images, but also in technical management and especially in her conceptualization of things. Her work is not anchored in beauty and the pleasure of sight but seems like this because of its beauty. Her work is above all a commitment to our time and the most progressive ideas in our world.
The artist takes a new look at Don Quixote, without paying special attention to the scenario; his adventures or the characters and their actions, she looks from another point of view: that of ideas. The artist collects the ideas that underlie the novel; freedom, cooperation, progress, overcoming injustice, etc. These ideas support this new point of view, allowing the artist to approach the concept with scenes, colours and even novel characters. A work that evokes Don Quixote from all angles, without having to respect certain rules and, therefore, is more quixotic than many other versions. The Regional House of Castilla-La Mancha receives from Houda Bakkali this artistic piece that comes with considerable international recognition. Now this piece has come into Quixote territory, closer to its origins.
We are indebted to Houda, a debt that we will only be able to pay off with the quixotic madness of moving forward, always looking towards a clean horizon full of peaceful coexistence and the balance between the interests of humanity and the planet." 
Reading Don Quixote on World Book Day
Houda Bakkali, has been one of the personalities invited to participate in the reading of Don Quixote to commemorate the work of the most universal Spanish writer on World Book Day.
«Bear in mind, Sancho, that one man is no more than another, unless he does more than another; all these tempests that fall upon us are signs that fair weather is coming shortly, and that things will go well with us, for it is impossible for good or evil to last for ever; and hence it follows that the evil having lasted long, the good must be now nigh at hand; so thou must not distress thyself at the misfortunes which happen to me, since thou hast no share in them.
DON QUIXOTE DE LA MANCHA (Part 1 – Chapter 18)
Irreverente, transgresor, visionario de un mundo con varios rumbos. Colorista e inventivo. Creador de nuevas palabras que no existen, pero que suenan bien, que imaginan un mundo entusiasta de conversaciones alegres, de nuevos amigos y de seres mágicos, casi perfectos en su imperfección. Mundos en los que las letras juegan, bailan, hacen y deshacen miles de historias para el recuerdo. Este Quijote sueña con el Macondo de Gabo y los versos de José Martí, con la nostalgia de Neruda y los maravillosos senderos que se bifurcan de Borges. Un Quijote pop. Un Quijote único. Un Quijote que pasea las Ramblas, que sueña con los mundos de Dalí y respira el Mediterráneo de Barcelona. Un Quijote universal y gladiador perfecto que crea emociones que llenan de entusiasmo el alma de quienes le observan. Es tiempo de Quijotes para conversar en armonía y escuchar historias mágicas que transforman cualquier dolor en felicidad.
FEATURED ON 3X3 ILLUSTRATION DIRECTORY | NEW YORK, 2021 
GRAPHIS HONORABLE MENTION | ANNUAL DESIGN | NEW YORK, 2019
ART REVEAL MAGAZINE 47 COVER, 2019