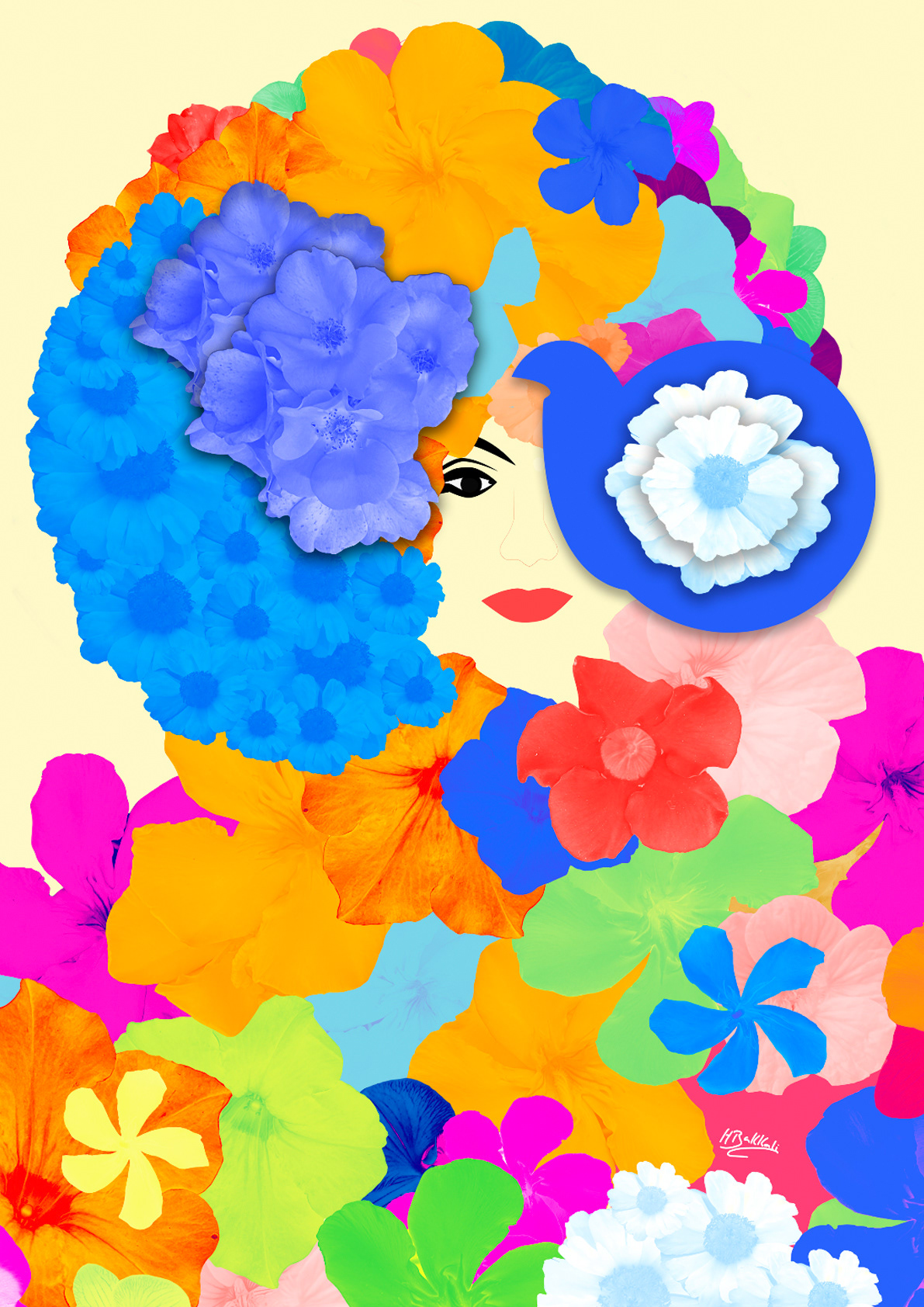 Title: The flowers of happiness
Original artwork 1/1| Limited Edition to Sanremo, Italy 
Mixed technique:
 acrylic painting on canvas, digital photography, illustration and digital collage. Augmented reality version. 
Ispirata da questo periodo buio, quest'opera d'arte è incentrata sull'idea di felicità. Questa è la ricostruzione, la rinascita di un nuovo mondo pieno di speranza e di colori. La figura della donna rappresenta forza, energia, un innato legame con la natura e una forte speranza in un mondo pieno di colore, ottimismo, comprensione e rispetto tra culture diverse. Il suo sguardo è incentrato su un forte desiderio di gioia e felicità.
Questa è una sfida per rendere la felicità una tendenza. Un forte desiderio di reinventare noi stessi e reinventare il mondo.
"Nel 2008 ho creato la mia prima opera. È nata in modo del tutto spontaneo, ispirandomi alle mie origini. Uno dopo l'altro, ho messo insieme un collage di fiori con diverse combinazioni di colori che hanno creato un'opera che ancora oggi, a dodici anni di distanza, continua a suscitare l'interesse del pubblico. Quando l'ho vista finita ho deciso di intitolarla "Africa, i fiori della felicità". Da quel momento i fiori sono diventati i miei migliori alleati per portare una componente di felicità ai miei lavori. Sono un elemento immensamente potente, sottile e fragile allo stesso tempo. In questa occasione, ho voluto che fossero protagonisti perché rappresentano la caducità della vita, l'esplosione di effimera bellezza che voglio immortalare nelle mie creazioni. Una chiamata al "carpe diem" più necessaria che mai. Tutti i fiori nel mio lavoro sono reali. Li cerco per le strade, negli spazi più anonimi e li fotografo. Poi li modifico digitalmente e li reinvento in diverse forme, dimensioni e colori, cercando di dare a ciascuno un'anima."
Inspired by this dark time, this artwork is focused on the idea of happiness. This is the reconstruction, the renascence of a new world full of hope and colors. The woman figure represents strength, energy, an innate connection to nature and a strong hope in a world full of colour, optimism, understanding and respect between different cultures. Her look is focused on a strong desire of joy and happiness. 
This is a challenge to make happiness a trend. A powerful desire to reinvent ourselves and reinventing the world. 
"In 2008 I created my first work. It was born in a completely spontaneous way, inspired by my origins. One after the other, I put together a collage of flowers with different color combinations that created a work that still today, twelve years later, continues to arouse the interest of the public. When I finished I decided to call it "Africa, the flowers of happiness". From that moment the flowers have become my best allies to bring a component of happiness to my works. They are immensely powerful, subtle and fragile at the same time. (...) All the flowers in my work are real. I look for them in the streets, in the most anonymous spaces and I photograph them. Then I modify them digitally and reinvent them in different shapes, sizes and colors, trying to give each one a soul. It is a complex and magical process."