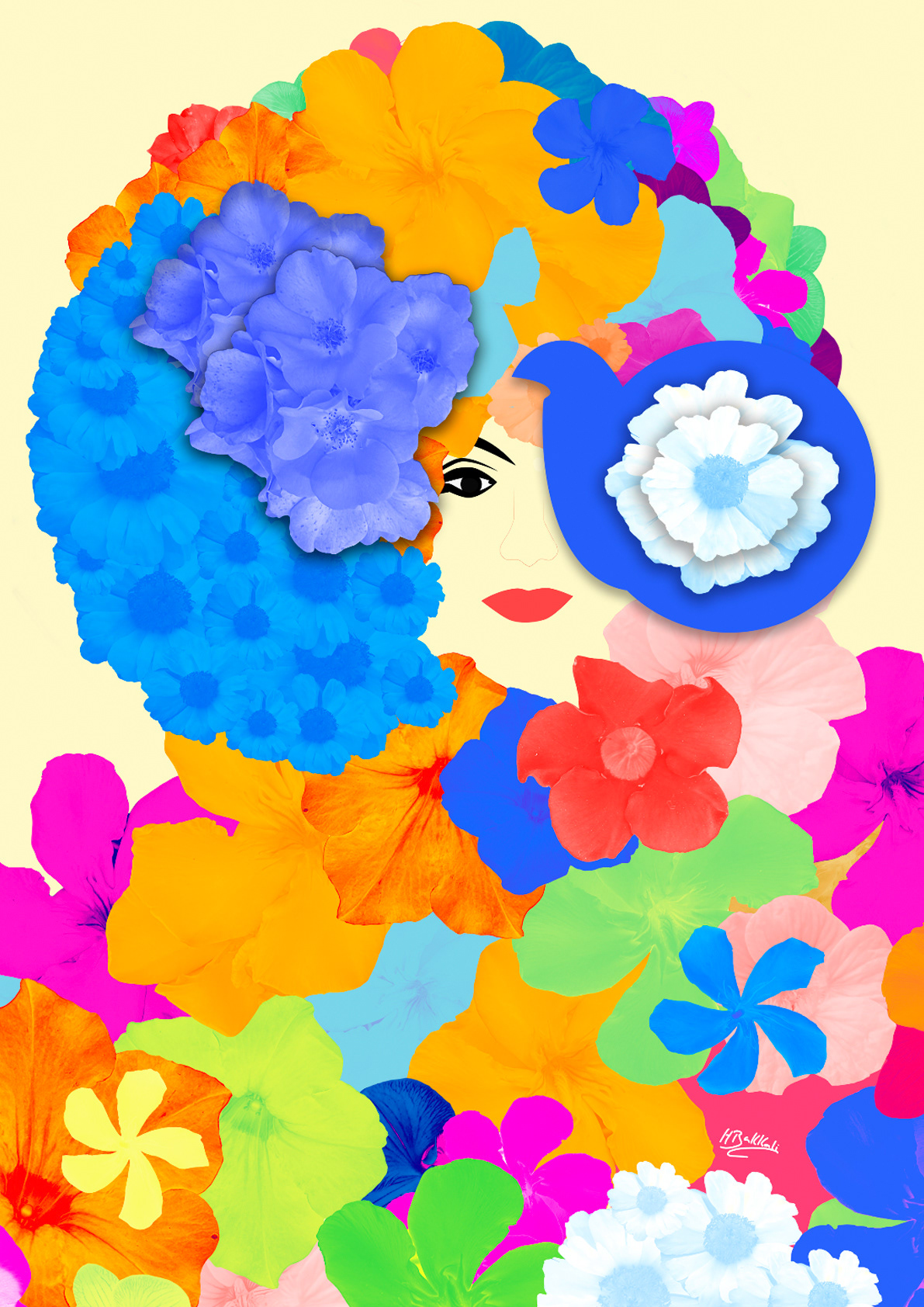 Title: The flowers of happiness
​​​​​​​
Mixed technique:

 acrylic painting on canvas, digital photography, illustration and digital collage. Augmented reality version. 
Ispirata da questo periodo buio, quest'opera d'arte è incentrata sull'idea di felicità. Questa è la ricostruzione, la rinascita di un nuovo mondo pieno di speranza e di colori. La figura della donna rappresenta forza, energia, un innato legame con la natura e una forte speranza in un mondo pieno di colore, ottimismo, comprensione e rispetto tra culture diverse. Il suo sguardo è incentrato su un forte desiderio di gioia e felicità. Questa è una sfida per rendere la felicità una tendenza. Un forte desiderio di reinventare noi stessi e reinventare il mondo.
Un'opera unica per Sanremo, la città dei fiori
Quest'opera è anche un omaggio alla città di Sanremo. Un luogo dove l'artista trova ispirazione e dove si trovano i fiori della felicità e della buona sorte che rappresenta nel suo lavoro.
​​​​​​​
Inspired by this dark time, this artwork is focused on the idea of happiness. This is the reconstruction, the renascence of a new world full of hope and colors. The woman figure represents strength, energy, an innate connection to nature and a strong hope in a world full of color, optimism, understanding and respect between different cultures. Her look is focused on a strong desire of joy and happiness. This is a challenge to make happiness a trend. A powerful desire to reinvent ourselves and reinventing the world. 
A unique artwork for Sanremo, the city of flowers
This work is also a tribute to the city of Sanremo. A place where the artist finds inspiration and where the flowers of happiness and fortune that she represents in her artwork are found.